Superbowl L Doughnut Party Cheat Sheet
The Superbowl is in just a few hours, and to give you something to look for in between the commercials, here's a cheat sheet on the players who could make the difference in the Doughnut Party.
First let's look at the current top 4 teams in our league: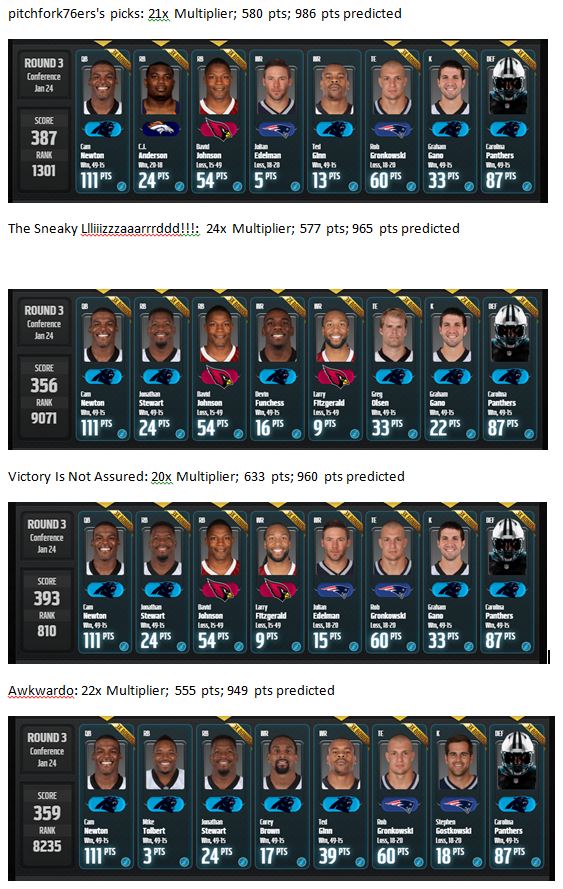 See above for each team's multiplier going into the Superbowl, current points, and predicted final points according to the DPSBPM (Doughnut Party Superbowl Prediction Model).
Here are the players who could be the difference-makers for these teams:
pitchfork76er's picks: CJ ANDERSON.  He's got him at 4x, and no one else in the top 4 has him.
The Sneaky Llliiizzzaaarrrddd!!!: DEVIN FUNCHESS at 3x, no one else has him.
Victory Is Not Assured: does not have any unique players.  But, he or she does have the most points… for now.
Awkwardo: MIKE TOLBERT and COREY BROWN- only at 2x, but no one else has either player.  Also, TED GINN at 4x; pitchfork's got him, but only at 2x.
Just because of past history, and because he has the highest multiplier in the league (26x), I also took a look at ominousunshine. He only has 459 points at the moment, but he has some potential breakout players that don't appear on the rosters of the top 4: DEMARYIUS THOMAS 3x; EMMANUAL SANDERS 2x.
All 5 of these teams have CAM NEWTON and PANTHER'S D, so those are not going to be the deciding factors.
Good luck everyone!