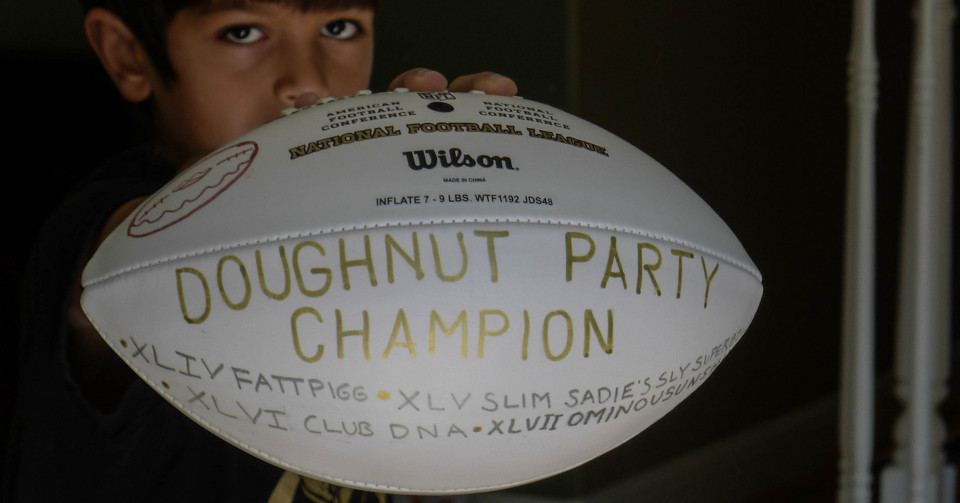 Every year, the name of the Doughnut Party Champion is inscribed for all posterity on the coveted Doughball.
---
Doughnut Party Champion LI: titleixforce!
Head Coach Jennifer C.
Way back in Doughnut Party Season XLV, titleixforce missed the championship by the thinnest possible margin. And that's not just sportswriter hyperbole; after leading the competition for the entire playoffs, she ended up losing to Slim Sadies Sly Superbowlers (Head Coach Julie S.) but exactly 1 point. 611 to 612. That had to hurt.
So this year's victory must be especially sweet for titleixforce Head Coach Jennifer C. Her teams are always tough. She has placed 7th or higher in 5 of the past 7 seasons. But somehow the Dougball always evaded her—until now. This year, with a lineup that was unchanged from wildcard weekend through the Superbowl, she emerged on top.
Congratulations titleixforce!  And congratulations also to 2nd place finisher Hijo de Sanford y Hijo, who had the highest Superbowl score in the league (318 points vs. titleixforce's 300) and almost pulled of an upset victory.

Thank you everyone for playing. Get some rest in the offseason, give those mouse-button muscles time to heal, and see you next year!
Doughnut Party Champion L: Victory is Not Assured!
Head Coach Kevin C.
Former head coach of Club DNA is back on top with a new team, Victory is Not Assured. He edged out pitchfork76er's, our predicted Champion, in a low-scoring Superbowl that had little impact on the leaderboard.
This halts Omshine's streak at three championships. But it also means that we have had only two winning head coaches in the past 5 years.  C'mon rookies, time to step up!
Here's how it all ended up: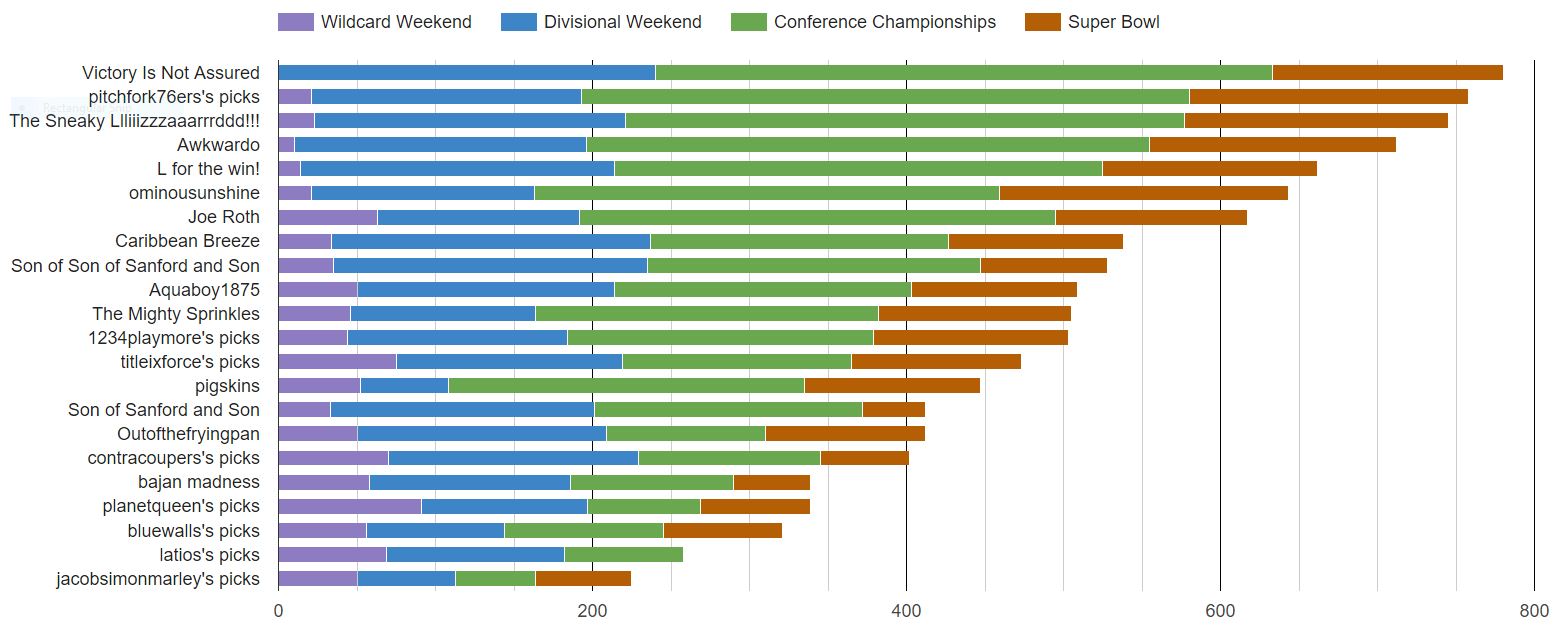 See you all next year!
Doughnut Party Champion XLIV: Ominousunshine!
Head Coach Nik B.
Even with tough competition from savvy veterans and a group of hungry new rookies, Om-Shine was able to pull another Championship out of the hat. Son of Sanford and Son almost kept the lead he held after the Conference Championships, and in the end was just 8 points behind – about 1% behind our perpetual champion. Rookies Son of Son of Sanford and Son and gretchenisdabosspicks also showed that they definitely belong in this league with strong finishes.
But in the end, it was Om-Shine again.  This impressive three-peat means that he has been the victor in 50% of all Doughnut Party seasons.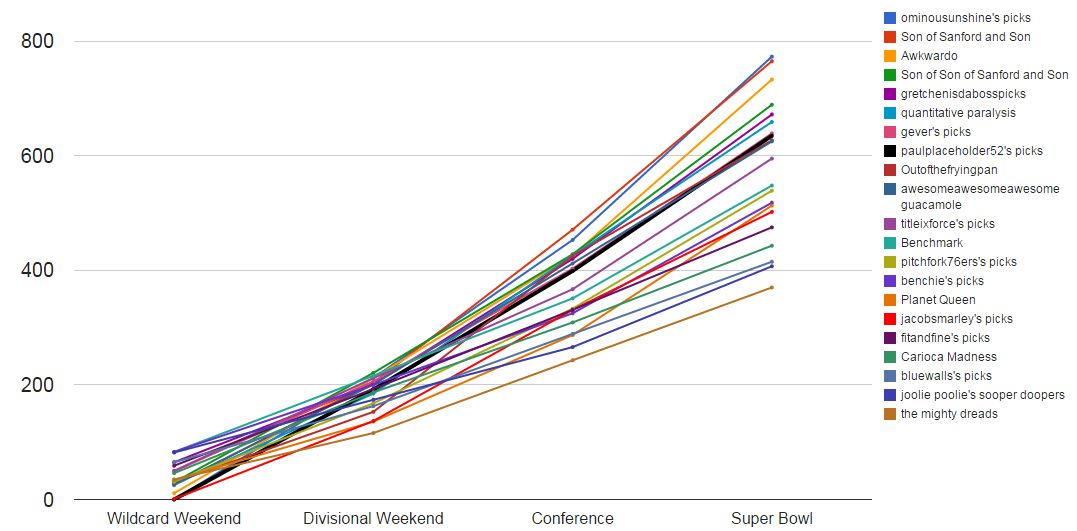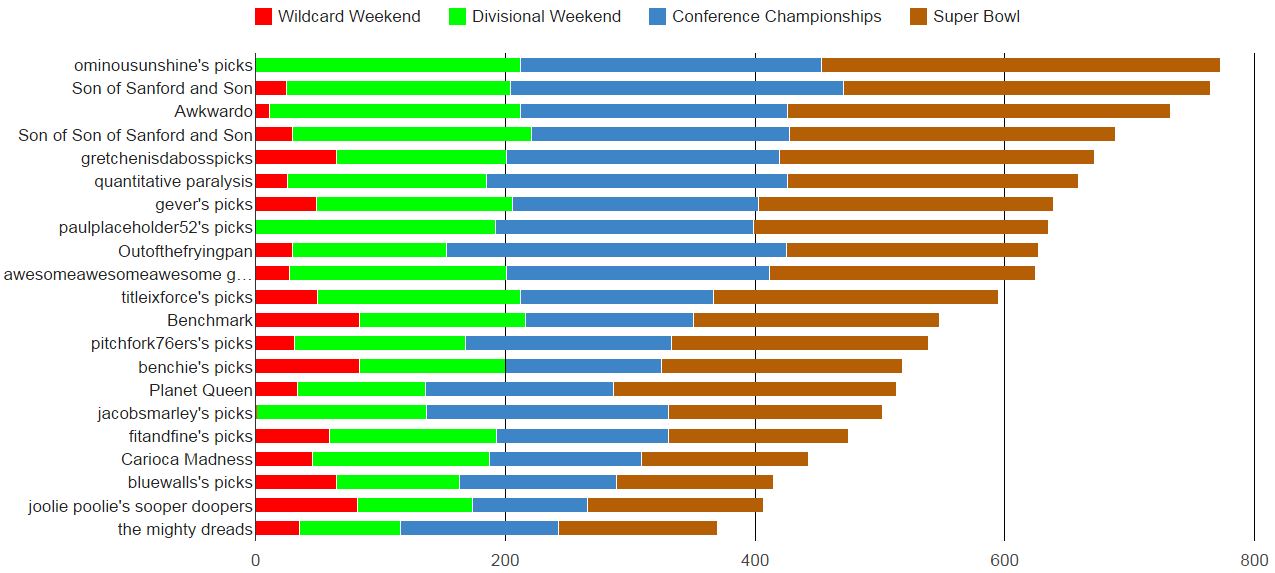 How does he do it?  You can be sure the Dr. will ask him in the next podcast.
Doughnut Party Champion XLVIII: Ominousunshine!
Head Coach Nik B.
The Doughnut party has its first repeat!  I'm hearing whispers about a "dynasty."  After a terrible Wildcard Weekend showing and a rather lackluster Divisional performance, Ominousunhine turned on the jets and there was no holding him back.  His team was liberally sprinkled with 4X players in the Superbowl, and despite bold  moves by many other Doughnut Party head coaches he held on to prevail.
Impressive, Ominousunshine.  Are you predicting a 3-peat?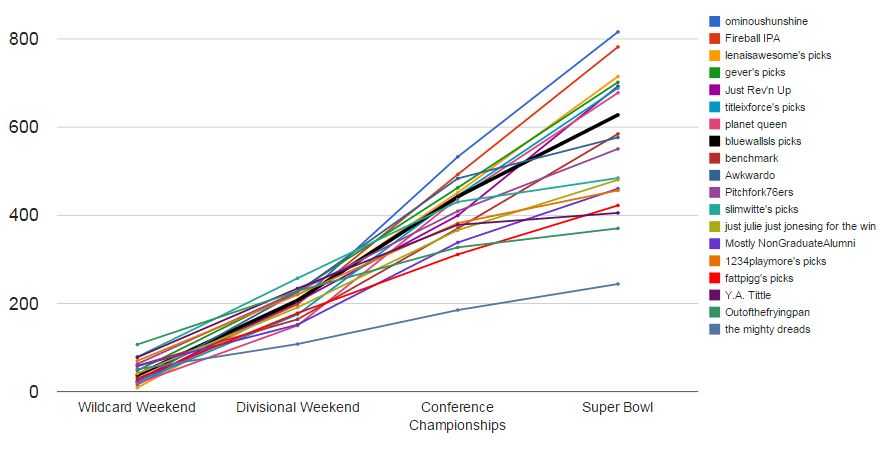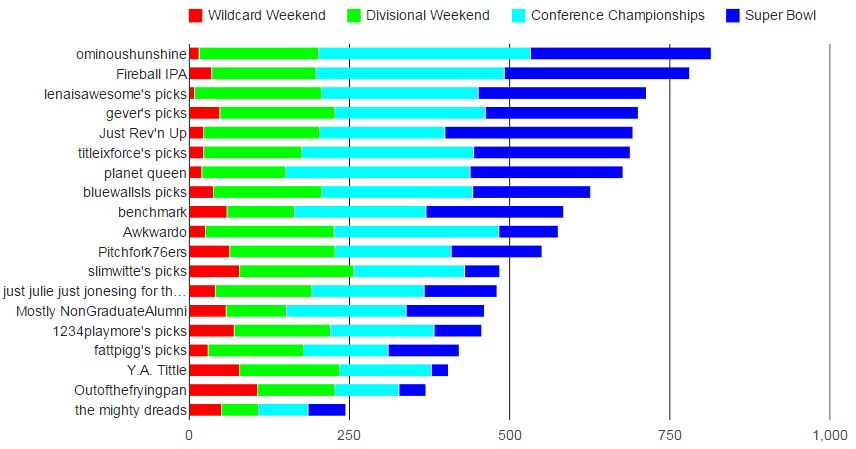 ---
Doughnut Party Champion XLVII: Ominousunshine!
Head Coach Nik B.
After years of finishing in the top four, perpetual close-but-no-cigar competitor Ominousunshine finally claimed the top prize in January of 2013 at Superbowl XLVII.  Finally his roster strategy of "just guessing" pays off!
---
Doughnut Party Champion XLVI: Club DNA!
Head Coach Kevin C.
In a competitive field that produced heated competition, Club DNA plucked the lead from Rookie of The Year Planet Queen (Head Coach Shyamala R.) at Superbowl XLVI. Check out the leaderboard:
---
Doughnut Party Champion XLV: Slim Sadie's Sly Superbowlers!
Head Coach Julie S.
Let's just look back at how the final standings were reported in January of 2011:
Wow.
Wow!
There are close finishes, and then there are close finishes.
Can you believe it???  SLIM SADIE'S SLY SUPERBOWLERS edge out the undefeated TITLEIXFORCE (Head Coach Jennifer C.) by…   ONE POINT!
You heard me right.  The top two scores are 612 and 611.  That is less than one fifth of one percent difference!
Ah, let's call it a tie.
Heck no!
SLIM SADIES SLY SUPERBOWLERS are the DOUGHNUT PARTY WORLD CHAMPIONS!
Here's the leaderboard to prove it:
Congratulations to second place finisher TITLEIXFORCE and third place OMINOUSUSHINE.  All three top players were very close at the end: 612, 611, 607.  This is a tough, tough league.
---
Doughnut Party Champion XLIV: FattPigg!
Head Coach Dave S.
Although league officials did not maintain a leaderboard way back in the Doughnut Party's first season, anyone who was there remembers FattPigg's dominant performance.  The 'Pigg shot to the top of the leaderboard in the first playoff weekend of 2009, and stayed there for the duration of the competition.  We've never seen anything like it since.